So now we're in the second week of covid-19 lockdown, I'm sure like me you're all bored out of your minds gagging to go fishing. Today the birds are singing their heads off, the sun is shining and it's 19 degrees. Perfect spring fishing weather to be out enjoying…not be long now, hang on in there. I thought it would be a perfect time to do a little piece on one of my syndicates from the last two seasons.
Right, picture it…out in the sticks is this complex of lakes known to most by Baston, A Carp fishing mecca since the mid to late 80's. There's numerous lakes on the complex that all used to have fishing access but unfortunately foot and mouth in the 2000's put an end to that. Over the last 18 years that it was closed there were only a handful of anglers given permission from the owners to be on site, lucky gits most of us that knew about the place thought. In that time scale the odd fish has been moved around the lakes in which to create the current syndicate lake on there, added to the original fish in the spoken lake it's now become to me what can only be described as a carp fishing heaven.
Low stock, 40-45 acre, Open water snag ridden beast of a lake that sometimes kicks you in the balls but for most of it it's nothing but a pleasure to be there.
A great bunch of lads make up this syndicate and everyone gets on like a house on fire. In the summer time there's plenty of BBQ's and the odd beer supped here and there. It's not the most sociable of lakes when it comes to the actual fishing side of things due to how savage the snags are so the days are spent wandering around seeing who's there drinking tea and chatting all things Carp. If that wasn't done, you'd be alone for the duration of your stay, it's really that peaceful and quiet. Like I said before…it's heaven.
So now I've put you in the picture about the place let's get to my first trip after acquiring my ticket late into the season of 2017. For the rest of seventeen I just received the ticket and tried to get an idea of the lake, areas the fish liked to be certain times of year and weather permitting. I wanted to start the season after with some sort of a plan hatched. So, plenty of visits were made to see Lee Walton and Lewis Porter in order picking their brains and knowledge of the lake and its inhabitants.
Fast forward to the following spring and my first trip was April the 23rd. Weather was lovely and the sun was high in the sky with 20-degree temperatures. I banged the miles up in no time rushing and buzzing to get to the lake. Reason for rushing, it was Friday afternoon and I was expecting the lake to be busy much to my surprise upon arrival I was the only person there…result. Although knowing this wouldn't be the case for long, I parked the van up in what I thought was the most likely of swims, unloaded the boat and set sail like Captain Jack in search of these mythical monsters. I had an inkling as to where the fish would be taking into account the current weather so headed straight for that area. Shit the bed, I nearly fell out the boat when I anchored up at the snags. My head was like an owl, I didn't know which way to look. It was just chunk after chunk. The old knees started to knock and I was soon on the blower to Lee describing what I was looking at. Literally all the known big ones were there including a few of the uncaught unknown ones, this place there really is the odd myth. I was absolutely buzzing and headed back to the swim to get some rods ready to rock.
Trying to tie hookbaits on and get everything ready was a bit of a struggle, I was shaking like a sh*****g dog after what I'd just seen out there. Imagine it, chunks swimming all around the boat coming close to inspect what I was up to, they were curious and looked well up for it. I was soon on my way out to place the 1st rod and a handful of bait shortly followed by the second and third rod. All on likely looking areas with freshly turned over silt amongst the weed, no doubt spots they fed on that morning.
Not long after getting set up Lewis turned up to fish so on went the kettle and I told him about what I'd seen out there also adding "mate if I tag one tonight it's going to be a 40" ha ha I was that confident. I'd seen out there a fish known as the long island biggie, definitely one of the main target's to be had amongst the stock.
Lewis ended up dropping in the next swim that fished another area of the lake so it didn't affect me in the slightest. Neil White and 'the Ginger one' also turned up to fish that night and we were all waiting in anticipation as to what it would bring.
Early hours soon came and I awoke around 3 ish to a single bleep, bearing in mind I'm fishing totally locked up because of the snags. I pounced out of the bag and bent into the rod giving it no time to try and gain sanctuary. I felt a few heavy kicks through the rod but then everything came to a halt so I took to the boat to get out there and land it safely. The Carp Gods looked over me for sure because I knew in the back of my mind the fish was snagged so I was praying the line would hold and in doing so I could free it up safely. Anyway about 15 yards from the snags she kicked free and swam straight towards me, I flicked the head torch on not really ready for what I was about to see… you guessed it, the Long Island biggie only swam straight under the boat, I nearly s**t my pants. I eased off the pressure a little, panicking the line may be damaged slightly, I really didn't want to lose this one. Twisting and turning in the light of the head torch I soon slipped her in the net with not too much fuss. A sigh of relief I let out then sat out in the middle of the lake for a moment waiting for my heart beat to resume to normality before the slow row back to the bank with an absolute donkey hanging over the side of the boat.. eee orr!!
Weighed and safely sacked I went and woke Lewis up "mate guess what I've had? The Long Island" we celebrated over a cuppa and I told him all about it.
It was only an hour or so before first light so I just kept checking she was ok giving her the odd stroke telling her everything would be just fine.
Light came around and the sun came up, all the lads gathered round in awe and Lewis snapped away on the camera. He really did this 40 plus years old and over 40lb in weight leviathan justice, she looked mega. This being the 3rd known capture in the last 19 years made it all that bit sweeter.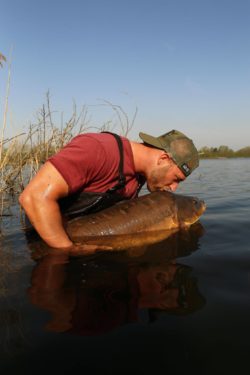 I also added to that a mid-double mirror from a result of chucking a single at a showing fish as I sat looking out waiting for the darkness to become light. Happy days and what a great result for my first night on the lake.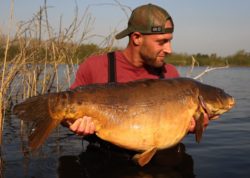 What a buzz that morning was shared with great friends, just what it's all about for me. I drove home that afternoon with a proper Chelsea like smile on my face already thinking about my return the following weekend.
I was back as planned and with similar conditions I thought they'd be in the same area but they weren't so on the hunt I went doing a lap looking for any signs. I ended up finding them down in what we call the shallows. I actually had to cut a little swim out and remove some marginal snags to get the right line lay and fish safely for them. I had the rods out by late afternoon and by early evening my left hander bent round double, a short but ferocious boat battle. I soon landed a 23 mirror, really sandpaper like skin and huge pecs. It was definitely a hard fighting male. It's on I thought, yeah right…they busted the s**t out of me that night losing 3 fish. Two to hook pulls and the 3rd dragged my rod in the drink. In doing so reached the sanctuary of the snags and cut me off. I left the lake with my tail between my legs having learned from my mistake of not securing the rod properly as the takes where so savage they just dragged the thing in within seconds, crazy possessed creatures. I underestimated them as I think all of the members have done over the time.
Still, although finishing on a low I still managed that 23 mirror so was another to add to the list and kept the fire burning again buzzing for my return a couple of weeks later.
The start of June was my next 2-night session. The first of that was a blank night after the fish I found moved off so I was back on my toes in search of them. An afternoon spent out in the boat soaking up the summer sun I eventually found a load of fish stacked up in a big weed bed of the point swim. I had a feeling it wouldn't be that many days if the weather held up that they'd be spawning so quickly set about getting the rods quietly in place and the BBQ on fire.
Lewis came for a visit to the lake so we sat the evening sun away drinking tea watching the fish fizzing like crazy out in front of me, like a cauldron at times. We were both saying how we couldn't believe I'd not had a bite but he kept revving me up saying it was on the cards.
I'd seen one of the big commons out there feeding on a tiny spot whilst placing my rig and that was the first rod to go shortly after Lewis left. I bent into it and it just held ground for a few seconds then slowly started to plod to the left, it felt a big fish but no sooner as I hooked it, it was off. Nooo I was swearing as I skipped the rig back across the surface. Upon closer inspection and the hook point was burred over, one of those things I guess and something that happens to us all. This place was giving me some digs in the ribs and I just had to settle the score. Fresh rig on and the rod was boated back out to the spot. Just flicked the kettle on and my right hander fished at range went into meltdown so much so I could hear the clutch screaming over the tone of the alarm, I was scared to pick the rod up in case I was going skiing. The latter was mostly true… this thing towed me around the open water of the lake from weed bed to weed bed, this thing was mental. I couldn't do anything with it. Wherever it wanted to go it just dragged me with it. Eventually after much toing and froing I won the battle and a proper nice dink looking mirror lay beaten in the folds of my net. The lads were on the walkie talkies before I'd even got back to the bank, they watched the whole thing from their swims. All sorts of speculations were being spoken about as to what it could be.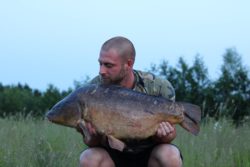 Just shy of 30lbs I wasn't going to grumble with that and felt as though I'd edged towards evening the score in my favour slightly. Light was fading quickly so a few self takes and a rush to get the rod back out I'd just settled down before darkness fell.
All through the night I kept getting woken up by fish crashing so on went the kettle instead to stop fighting it. I just finished the first brew by this time it was just breaking light so around 3:30am and the middle rod was away, just the line pulling tight and out the clip. It weeded me up so I took to the boat once again to land it. This being a really clean-cut common of 31lbs… now I felt although the score was coming in favour of me.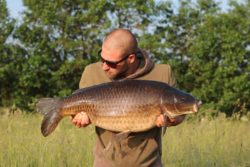 By 5:00am my prediction was right and the fish started to spawn at range in front of me so that signalled the end of my trip, I reeled in packed up and just watched from the bank the fish getting jiggy with it.
I left that day and did not return until the autumn in the meantime having some social fishing with my good mate Jack. We caught plenty that summer and had a right laugh which made it all go so quick and before I knew it it was September and I was back at the lake. Quite a fruitful September landing another handful of fish from four different zones including a proper battle scarred otter dodging 30 plus common, this thing was a proper survivor and was a real honour to catch it and hold it up for the cameras.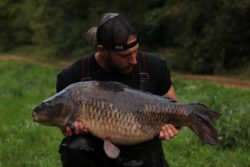 October was tough, the lake went into lockdown. Bait was getting left all over the lake and the fish just seemed to shut up shop. They were being proper bar-stewards. I did manage to get one more bite but lost it due to a hook pull.I felt it was time to pull off and return next spring
Spring 2019 came around and I was back fully recharged and ready for a full-on attack.
The first two trips were blankety blanks not for the lack of trying as i was always on the fish, just how it goes sometimes. The third trip however was the 17th April two weeks before I went on a sunny holiday. I found the fish up in the shallows again looking up for a feed. I got the bite I wanted but it smashed me up big time on the take, 40lb snag leader as hooklink and it just broke it in half… C'mon give me a break man, what are these fish made of? I repeatably asked myself. The next week I returned with 50lb hooklinks ready for anything they threw at me.
I located the fish in the same swim as the week previous so it was pretty easy, I knew the spots to fish. The rods were out quickly and quietly. The evening ran away with itself and before I knew it, I was asleep on top of the bedchair still in my chest waders. The reasoning to being brought around to life was the fact my rod was being wrenched from its bank sticks in doing so ripping the alarm totally flat and out the ground, these fish are mental.
The fish kited to the left narrowly missing the edge of the open water snags. I gained some line and got it clear of them but in a bid for freedom to the point the fish pulled me forward a couple of steps, proper power house. The war lasted about 10 mins incorporating a few hairy moments but I won in the end resulting in a chocolate brown mirror of 33lbs and one that we couldn't find any recent captures off.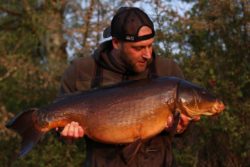 That was the last of that trip and the next two weeks I was away on holiday constantly thinking about getting back to the lake for another go.
This year saw Myles Gibson and Micky Clark join the lake, serious competition these two added which made it all that bit more pleasurable. The three of us were the main ones fishing that year as it was pretty quiet regarding everyone else. We put some graft in resulting in an excess of sixty fish caught between us which is mega going for this place. All of us catching some proper special ones.
We respectfully left one another to do our own thing i.e. baiting particular zones and making the most of our hard work, something you don't see a lot of nowadays. Too many people want to jump on the back of someone's effort, not willing to put it in themselves.
On my next visit to the lake a week or so later I took to the boat and ended up finding the main jewel in the lake feeding in a deep corner, this great scaly normandon rose from the murky depths it was feeding then dropped back down on the spot, I was out the area quick as, parking the boat in the vacant swim and legging it round the lake to fetch my van. Adrenaline was pumping as I smoked the track up all the way round, guaranteed it looked like Colin McRae rallying the dusty track.
Two rods were not long after flirted onto the spot, well one on and one off it in the bid not to spook her if she was still feeding. The night was warm and I sat up well into the dark listening to the odd fish shuffle out. On edge and eventually after smoking about forty fags I drifted off to sleep but was woken on first light as my left hander let out the almighty screech as braid was savagely being stripped from the spool. This fish held deep and plodded slowly, I was convinced it was her. My heart was in my mouth, as my knees knocked I gradually began to get the better of it and up popped a common. I was pleased with the capture, but I just had a feeling it was the big girl. It turned out to be the same 31lb common I had on the morning they started spawning back in June the year before.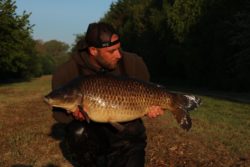 The next two weekends saw me land 5 20s to 26lb which again is a right result. I was getting the bites, but I dearly wanted them big girls. After all everyone loves a big girl every now and then ey.
The week following saw just that. On my first night back I landed a mega 33lb mirror on first light. After a short-spirited fight from weed bed to weed bed another nice chocolate mirror was being towed ashore. Staying put in the swim for a second night I thought would be a good idea but turned out not, I didn't catch that night but was happy all the same.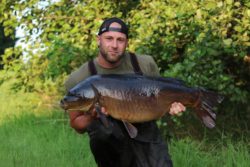 I'd been baiting 3 different swims regularly and all the bait was going so I was almost spoilt for choice but on my next visit I chose the area I'd seen the biggest fish residing in the snags beyond the spots. Now this turned out to be one of them nights, a love and hate one…early hours before first light I landed one of my favourite fish from the lake at over 30lbs and again another none of us knew of so that made it all the sweeter. Long leathery thing that pulled my arm off and fought almost till its death. That fish was safely in the retainer and knowing my good friend Jack was also out fishing I got on the dog and bone to him both exchanging our happenings of the previous night. Next thing the recast rod busted off and I was on it like a shot lobbing the phone shouting "Jack I'm in. I'll bell ya back" this beast kited so hard I couldn't get anything on it, only pray and lay bent double into the rod hoping I could change its direction, unfortunately I couldn't and the hook pulled due to the sheer pressure I was having to give it, win some ya lose some I thought. It doesn't always go smoothly in Carp fishing as I'm sure we all know. Anyway, back on the blower to Jack explaining what had just happened now the left-hand rod bent round, bearing in mind I'm locked up.. It just bounced the rod out the rest landing in the boat. In doing so it gained enough line to reach the snags and cut me off, I just watched a big bow wave plough through and out the other side of the snags, w*****s I thought. Three bites in just over an hour and only landing one. They hurt losing them from this place because it's always in the back of ya mind "what have I just lost, maybe an unknown, maybe a 50 plus" I left that morning with mixed emotions but before I left I deposited plenty of bait in the three zones I had been doing so ready for my return in a few days.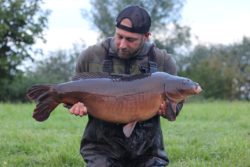 I was soon racing back to the lake full of anticipation. Out on the boat I went on the hunt and soon found some fish in the baited zones. My mate Jim Shelley rung me whilst out in the boat and after filling him in on what I'd seen he sort of helped me make the decision on which swim I would fish for my first night, he revved me up big time saying "I'd ave em" so I've got him to thank for this next capture. It came pretty soon after I got the rods out over a real smooth silty area. A monstrous battle at short range it really did pull my arms off, going from left to right using the deep margin to its advantage.  I saw a flash of big scales ghost past me, I thought "could it be her " it ended up not but I really wasn't disappointed with this one as it was gorgeous, big golden sovereign scales, mid 30 and uncaught for nearly 6 years. Get in there boi!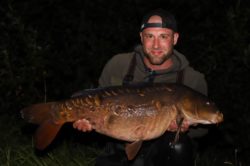 I followed her up the next day with a move of swims and a nice mid 20 leathery mirror. All was going well, I was plucking away nicely. In fact, Me, Micky and Myles all were. Surely it was just a case of when one of us would catch the BSB… Big Scaly Bastard. But we were running out of time, October was fast approaching and if last year was anything to go on, I knew the lake would shut up shop again.
I did manage another handful of mid-twenties in the September and one special 27 mirror, another otter dodger. Massively scarred up but healed and fighting fit. These fish can really endure some shit and overcome it. A real honour to hold such a creature, I'd love to hear of its tales.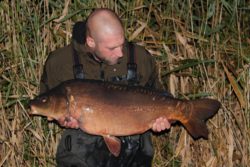 That pretty much brings us up to date, I've had to cut things short else I'd go on forever. The year had some lows but was mainly filled with fun, BBQs, laughter, carp and lots of friendly brews.
The fire is now burning more than ever, I'm loaded like a coiled spring waiting for this lockdown to end because there's a great big scaly carp that's got my name on it this year.
I'm coming for you BSB
Watch this space guys and gals and be lucky in your quest of all things Carpy.
Tom.