The summer of 2018 Testing the awesome Prime with my better half Wendy Carlton.
Early in 2018 I bumped into Greg, Ryan and Chuck in the local tackle shop and we enjoyed a chat regarding all things carpy. Inevitably, the subject of bait came up and I recall we commented on the lack of predominantly meat based baits on the market. While meat based products are often included in many recipes, liver powders being the most common, there was certainly a lack of complete food based baits that included meat derivatives as the bulk of the ingredients. It's common knowledge that carp can be somewhat partial to a meaty snack, indeed some of the all time classic carp baits are in fact meat products. A look back at the history of carp fishing reveals the success of luncheon meat, sausage meat, hot dog sausage, peperami, salamis and bacon grill as outstanding baits over the years so it stood to reason that a meat based boilie with a strong savoury flavour would surely be a winner, wouldn't it?
Six months later I received a call from Greg who informed me that RG had been hard at work formulating a meat based bait, sourcing quality ingredients and putting together a recipe that included three different meat meals, vegetable protein, milk protein, soluble fish protein, Himalayan rock salt, beef and liver powders and a blend of liquid pre-digested meat compounds! The bait was ready to be put on test and I couldn't wait to give it a try!
Twenty kilos of rolled meaty treats and a jerry can of rich, savoury liquid arrived on our doorstep, just in time for a weekend trip to the syndicate. The bait smelled and tasted incredible, oozing meaty flavours with a distinct spicy undertone, if the fish didn't like it I would eat it myself!
The lake was somewhat busy when Wendy and I arrived on Saturday morning for a 24 hour trip so we decided to double up in a swim known as the long cast and fish just two rods each. Simple knotless knot rigs were attached to each set up with a meaty treat, straight out of the bag, slid onto the hair. There were no pop ups or wafters available as this was a brand new test bait, so bottom baits were the only option. We positioned two rods long, to the back of an island (one each) with Wendy's other rod positioned on a shallow bar to the right of the swim while mine was cast down the margin to our left. Traps set, kettle on, feet up and await events.
We didn't have to wait long! Two hours in and my long range rod signaled a take! The fight was incredible as a really heavy lump chugged up and down the lake collecting silkweed all over the line as it went! Eventually, after an awful amount of heaving and swearing, a very large fish rolled over the net cord and we both peered into the mesh with wide eyed astonishment! Here, sulking in the bottom of my landing net was the lake's largest resident, a huge mirror known as Black Spot.
Up on the scales Black Spot weighed in at a huge 53lb 12oz and, after shitting meaty goodness all over the unhooking mat, posed for a few trophy shots with a very happy capter!
The night passed without any further action but as dawn broke Wendy lost a huge common after a protracted fight when the hook pulled just beyond the reach of the landing net. The rig came back smothered in silkweed and Wendy was convinced that the fish had come adrift as a result of this.
It would be two weeks before we could return and Wendy took the opportunity to soak some pink vita-lac pop ups in the new, meaty liquid to act as buoyant hookbaits to stand proud of the silkweed. This turned out to be a really good shout and the baits took on a boozy sort of smell, a little like corn steep liquor.
The next trip turned out to be incredible for Wendy. We arrived late on Friday night and Wendy dropped into a swim known as the cave while I settled into the hole, two swims up on her left. We piled in six kilos of the meat based test bait in front of Wendy supplemented with a kilo of vita-lac, all soaked in the rich, meaty liquid. The pink pop ups in meaty syrup were cast out on all three rods. Over the next two nights Wendy landed fish of 19lb, 29lb+, 31lb, 34lb+ and 42lb 8oz, while I chipped in with a common of 26lb+! All of Wendy's fish were mirrors and all were crapping out meaty goo all over the place!
The next trip, a 24hr session, produced another three fish between us with the biggest being a leather of 31lb falling to my rods!
It's safe to say that the summer of 2018 turned into something rather special for Wendy and I, with incredible memories to cherish. All thanks to the guys at RG Baits.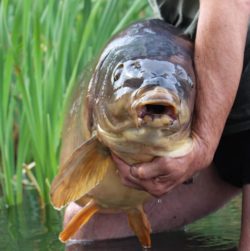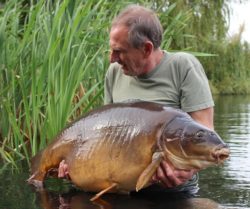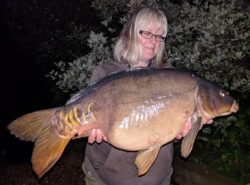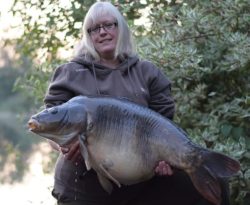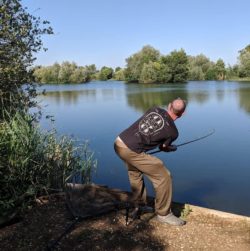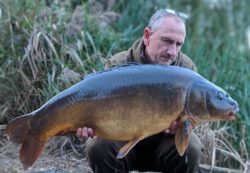 ---