The Castle lake is a lake not far away from my Lincolnshire home that I've fished on for over a few years now on and off. It's a beautiful unique place of around 8/9 acres over looked by a small Castle of which it gets its name. It's an extremely weedy lake, with weeds and aquatic life of all kinds and varieties. They flourish in depths ranging from 1 to 20ft that make up a maze of shelf's, bars, and plateaus, fished mainly from little pokey holes around its overgrown vegetation that borders its margins. Original fish are up to over 50 years old and this is all surrounded by huge great Pines and towering poplar trees with of course the back drop of the Castle itself. Sounds amazing doesn't it?
The truth is, it was like that, its tranquillity is no more and its beauty scarred by selfishness or what some might call progress? And with this came the end of fishing this beautiful place as we once knew it.
This is a tale of the last couple of years on what was a very special lake to a lot of anglers our way as it changed before our eyes. From a local lake we thought would be forever to a place that eventually we would no longer be able to fish nor see its beauty as it once was.
I guess I should start my story before all this mess, when a small syndicate of merry men went about their way fishing this stunning old Lincolnshire lake. I never actually had a ticket for Castle, all my early fishing on there was done by guest sessions, but knowing the whole syndicate I got a few in I must admit lol. They were good times, everyone of them good lads and anglers who really appreciated what they were fishing for and respected the surroundings they were fishing in. Most of my own fishing was done over the other side of the river at the time on another special little place. Although I enjoyed fishing castle the odd time on guests, in my early days it just never got hold of me, too obsessed in the ultra low stock one next door. But eventually after a lot of abuse from my mates, the go ahead from the wife, and the idea of flitting between the two (when them next door weren't playing the game) I eventually gave in and was set to acquire a ticket the following spring, or so I thought!
Winter dragged on, Christmas came and went, and now I was beginning to get excited about the prospects of the coming season. My first full season on the Castle with my old mates again, without them being able to chuck me off lol. Bait was ordered, boat and life jacket sorted, ticket money in the bank, brand new Oar lol I was ready for a change! All I needed now was the call.
The ticket was due to start the 1st of April, it was nearing the end of March and I still hadn't heard anything and neither had the rest of the lads, who reckoned the park normally had it sorted by mid-March. March 31st I finally got the call that I never expected. Followed by a text message from my mate saying the syndicate had been terminated! For a split second I thought they were pulling my leg, but turns out it was no joke, just like that the Castle was gone.
Probably nothing compared to the other lads, but I was gutted, every one of them totally gob smacked by the whole thing. We eventually found out that the lease to the lake which had only ever been available on a year to year basis, that we as a syndicate paid £3,000 between 10 of us (or in my case would have) was taken over from the ski club from the other side of the park for £27,000 a year. This was with the intention of building Cabins and some sort of ski line with ramps and fishing would cease. Whether the figures were right or not, the rest of it didn't sound to clever, not only could we not fish but they were going to destroy the lake to be able to do what they needed to do, it was like a bad dream. Not only that, the syndicate money that I managed to scramble together on the quiet was soon spent by the wife on rubbish not long after, so I couldn't even spend it on good stuff like fishing tackle, double gutted.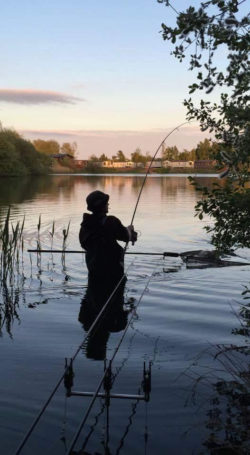 Lady luck did eventually feel sorry for me, I had a very successful spring on another water out Cambridgeshire way catching some very handsome Carp but it was during this spell I got the call that couldn't be further away from my mind at the time, Castle was still on! It was under quite different circumstances but if I wanted it, now was my opportunity to have a go. I was absolutely thrilled with the news and quite taken back by the fact that the maintenance manager who off his own back bless him, had asked permission from the new lease holders if two or three of us could still fish until the equipment was erected. After a close friend turning the opportunity down and pointing them my direction it meant that I got the call to ask if I wanted to be one of the lucky few. I went from not quite believing my luck to, well, not quite believing my luck, and thank you gents, it really meant a lot. I carried on fishing the Cambridgeshire water through most of that year, the other couple of lads' (one being the maintenance manager) were fishing Castle, so I planned to fish the back end sometime in an effort to leave them to it.
The successful spring turned into a successful season on the Cambridge lake, to the point of even surprising myself. Even so, as summer turned to autumn my thoughts began to ever more increasingly sway towards Castle. It was absolutely nothing to do with the bites eventually drying up and that particular water having no winter form whatsoever, honest.
After a few little baiting sessions with the kids, my first night (still not as a member) was around mid-October. It was still fairly mild for that time of year, not that the Cambridgeshire Carp had noticed. It was mild and overcast with low pressure and drizzle, pretty perfect really and hoped that my Lincolnshire Carp were feeling the same. Buzzing for what lay ahead, I set about getting the rigs on the pre-baited spots before chilling water side and ripple gazing. I was thinking of the old lumps that reside in this watery, weed chocked haven I was yet to meet whilst slowly sipping my brew and still not quite believing that I'm now here and fishing sat perched on my bucket.
Darkness fell on my first night, and after getting into the sack I eventually drifted off to sleep, probably with a little smile tucked in the far-right corner of my mouth. That was until around 2am when a huge Greek security guard from the park woke me up via torch to the face asking for a fishing permit, which of course I didn't have. Blurry dazed eyes and half asleep, I did my best to explain the situation trying to be extra polite. After my not so good explanation of what the deal was (which he somehow bought) he introduced himself, told me to keep an eye out for bad guys, bottomed his van as he got in, slammed his door shut, and then pulled the van round illuminating the whole area in front of me via full beam, before heading back down the track. "Welcome to the Castle" I chuckled, being half asleep I never did catch his name, but from that moment he was known as 'Securities God Of Light'.
My autumn campaign became quite a fruitful one, catching some stunning old Carp along the way, right from that first session carrying on right into winter, my run of fish only halted by an iced over lake come mid-January.
I enjoyed myself so much so, that the following season planned to entwine fishing Castle along side the Cambridgeshire pits a little more. Seems how Castle was so close to home, the other lakes over an hour away and me never being able to get to the lake until last knockings, I thought it best to spend my time at little more tactfully. Why rush to Cambridge battling through the traffic, to get to a busy lake with only a few unfavourable swims free, when I could now just to tootle to Castle when time was tight. So that was it, the plan was set!
– Go to Castle when the wife's work rota said "Tight".
– Go Cambridge when the rota said "Av it".
– Sulk when the rota said "No".
– Pretend not to sulk, when the wife said "No".
I couldn't have asked for anymore really, at least I knew where I stood and should surely benefit my limited time, but before then I had plenty of chores to do over the rest of the winter otherwise it would be a "No" to all of the above!
It was a cold few months after the initial mild start, the lake didn't thaw out until the third week in February, and was well off my mind whilst happily getting all the duties her majesty gave me done and dusted during my time away *cough*. I was planning on getting fishing again, the sooner the better. The rota said 'tight' for the next three weekends, so Castle it was. Which to be honest suited me fine, the Cambridgeshire Carp wouldn't be waking up any time soon. However, Castle, even though a lot lower stocked and weed chocked it could still chuck up the chance of a fish.
Well her majesty was not amused with my work quota, and for another two weekends had me under her order of hard labour. Finishing off doing the rest of the stuff I 'allegedly' promised (against my will) I got to go the final 'tight' weekend which fell on the third week in March. It still had been cold until last week, but the weather was on the turn and come my sesh, as luck would have it, it was a little more spring like I suppose. The sun had started to make a positive impact in the day light hours, warming everything it's precious light touched, but then followed by fresh warm winds and showers at any given moment without warning, ending in a freezing cold night. Yep, Spring was here alright.
My first night back on the Castle I was rewarded with one of its beasts, a mirror by the name of 'Big Dave' a cracking brute of a Carp nudging mid 30 in full winter bloom. It was an awesome creature and welcome back which was a right result after the recent harsh weather. The fish came to a single hook bait, I had no intention of baiting up so early as I wanted to see the fish a little more active and looking for stuff before I started feeding. I've often found being just a little more patient sometimes leads you to exactly where they want it before committing bait to any other areas, rather than leaving it to hope or chance.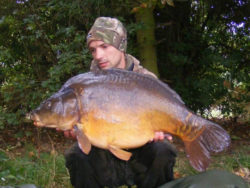 Plenty of runs out with the kids over the next couple of weeks, carp spotting or 'to see the Princess of the Castle' as Ellie would say, gave me good opportunities to make up an idea of where they wanted to be, for the time being at least. Then stealthy trips out in the boat on my own before work after taking the kids to school, helped pinpoint the location of the best-looking spots around that area. Favouring the little firm spots that had begun to develop close to the most bashed up weed that had been dusted off and smashed over. I began to trickle a few baits and a dusting of pellet over this area, and watching it change every other day sure was exiting, it really didn't help my week at work go any faster, in fact it dragged like King Kong's balls!
Over the next few sessions, spanning the next month or more, I had some good results from this area running alongside some equally as good results from the Cambridgeshire pit. Consistent captures from both lakes including some decent fish, meant that confidence was sky high and my new relaxed method of choosing the lake more suited to time scale (rather than rushing about) really helped me get the most out of my limited fishing, as well as keeping me in a good mood.
One particular session that stands out, was in mid may when the mighty 'Quasi' Queen of the lake graced my mesh, one of the two big old Italians. Not only that but the lakes biggest Common and second biggest Common too, all in a mad morning spell.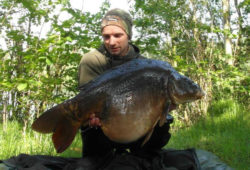 At the time the dreaded rota was on 'No-Go' for the next couple of weekends at least, so the only way of getting down whilst it was going off was after a two till ten shift mid week. I would be set up for around half 11ish on these trips, and gone for the same time next morning. I'm not going to say a quick, or cheeky night, so I'll call it a 12hr or less stint if that's allowed. After an uneventful night I awoke from my slumber to the buzzing of my phone alarm at 5am, surprised at the fact that it wasn't ole Neville that woke me. I'd not had much sleep during the night, as for most of it I was being bleeped from my bed to slow steady liners, and hearing lumps crash out all over out in front of me. Looking out over the area now in the morning light, confirmed that the action was not over yet, as plumes of bubbles fizzed in several different spots around the baited rigs.
The Kettle was filled, the stove was lit, and slowly I began to wake up to the morning song of the birds, as they cheerfully went about, collecting their breakfast feast of critters. It seemed everything was on the munch, three sips into my brew thinking I should eat something too is when it all kicked off! Starting with the left-hand bobbin smacking the blank with an almighty crack, followed by the sound of the Reel over the Neville, as the tight clutch strained to hold line, oh and me spilling me brew. I eventually gained some kind of control (in a fashion) and it was soon apparent that I was attached to one of the big uns. Heavy powerful heart stopping runs and defiant in every way, certainly living up to all the story's I've heard of them beating up their captors in the past, right goers for old girls. After a lot of praying, swearing, pleading, and getting stuck in the weed a plenty, I slowly won the battle, and was soon pulling weed from around this beast that was now imprisoned within my net. Then it hit me, I couldn't believe what I was looking at, totally in awe of the thing and shaking from top to toe, I stood fixated on what lay within my net in a hypnotised state "I just caught blooming Quasi" A 40lb+ Lincolnshire mirror said to be over 50 years old.
After pulling myself together a little, I set about acquiring some help. When you catch a special Lincs fish like this, I suppose you need a special Lincs ledge to help, so the leg-end that is Lippy got the call and he's said to be over 200 year's old, that's a lot of history in one photo shoot I tell thee. After weighing her at 40lb 8oz I carefully transferred the great fish into my best sack awaiting the arrival of Lippy. The rig was hung on the ring of the rod and left on the rest, and I was just about to sit down on my bed to roll a fag when the middle rod was away! The 'whallnut' common the 2nd biggest common in the lake was the culprit another one of the oldies. Lippy turned up just in the nick of time and was able to assist helping me weigh and photograph her. She went 26lb 10oz another lovely old fish and a fine Lincolnshire brace.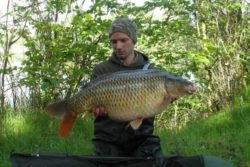 She was carefully slipped back into her home none worse for wear, which was more than I could have said for myself. I refilled the water bucket for the next set of photos before heading back down to the waters edge to prepare Quasi for the mat. In the water along side the fish, I began untying the taffle of knots from the strangled bank stick, slowly I began to raise her bit by bit towards the surface, allowing her to express her anger with me from the safety of the water. After she settled and about the 1001 times I checked her fins were good to be lifted, I carefully took the strain of the fish and was just about good to go when the remaining third rod burst into life! I would like to say she was lowered just as gracefully back down, but it was probably more of a dunk in the panic as I threw the sack cord to Lippy to stand on, grabbing the remaining rod with my other hand from what was now head height. Another good tussle was endured, alongside some help from Lipstick, something about being a 'jammy lil Hobbit'? The third and final fish was safely netted. The final rod produced the lakes biggest Common, the 'Peach' at 30lb 8oz. What a morning, a bite on each rod and a 20, a 30, and 40lb Lincolnshire gem. OK then 'jammy lil Hobbit' was probably right.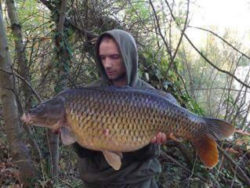 We commenced with the photos of the Peach straight away, before the main event of Quasi. She was a fine fish, not one of the oldies but handsome all the same and somewhat over shadowed by what was to come. With no rods now left in the water, I could calmly repeat the process of preparing the fish without the interruptions of last time, we could FINALLY see Quasi. Once on the mat, opening the sack was a real treat for both of us, she looked Jurassic! Every inch of her wrinkly old skin etched in character and detail, with scarring from over the years on her flanks that told stories from way before I was born, and all this in the massive frame of her shoulders and gut bucket belly of which she gets her name. Lippy had caught her when he was younger than me at around 18lb., probably a couple of days after the Jurassic period actually, he said it was the same shape even back then and was still a big fish for the time. The photos were done, the congrats were made and I set about making a brew for me and the old fella after all that hard work bless him, contently sat listening to his old stories of the local pits, before him getting off and me packing up for home after this incredible little session.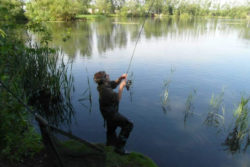 Great results were had had from both lakes over the coming months flitting about in my 'happy go lucky' kind of way. Late autumn was looming and just like last season, all the time I had would now be spent at Castle rather than Cambridge, as like I said before, it had no winter form whatsoever. Castle on the other hand, being the strange old lake it is, never read the rulebook on fairly low stock weedy winter fishing. It had even thrown up fish from an iced over state in the past! Luckily it was far from this weather wise, another mild autumn meant that there had to be more chances on the cards. My hopes over the coming weeks from the end of October to mid November became reality, as another flurry of these amazing fish were enjoyed, during a few quick nights, I mean, 12hr stints or less! Including Quasi for the second time, amongst other special old fish and capped off by another incredible session just like of that in the spring. Again, after a two till ten shift mid week, saw me bank 4 fish of 26+, 30+, 32+ and 33+ in an incredible 6hrs fishing including one of the lakes two beautiful big fullys. Nice!
The fishing came to an end that year, not because of ice, but because the 'development' was due to start sometime that winter. I carried on doing the odd night here and there until they began work until one cold crispy Friday morning when I arrived after a night shift, at the beginning of December. With it being still dark and rather foggy, I got the brew kit out the van sat my tired ass on my trusty bucket and made myself a brew and fag whilst waiting for the sun to rise and fog to lift in the most open area of the lake for the best possible view, ish! Even when the sun did pop up, I still couldn't make much out, everything hidden from view in the ghostly mist, I couldn't even see the Castle. Eventually I started to make out silhouettes and shapes of the lake around me, apart from one bank. I still couldn't make out the row of 6 massive poplar tree's that towered above the Castle itself. Still putting this down to poor visibility in the fog and me being half asleep at this point, I slowly finished my brew and carried on my wait. Until it became apparent, that in fact is was not my tired state of mind, the blooming thing had GONE! Every bit of fog that lifted revealed more devastation, they'd pretty much bulldozed one whole bank. Not just that, the point was flattened, and the opposite corner which housed the snags at the shallow end had been chopped out too, leaving nothing but an empty hole in its place. Totally gutted at what they had done, and obviously not being able to fish, I got back into my van and headed off home to bed. All the way thinking of how this once so beautiful lake was being destroyed.
I didn't return to Castle until the following late spring, I got the go ahead to fish much earlier than my first night, but I just couldn't bare to see what they'd done in my absence. I was also told that we could only fish three swims from now on too, High bank, Bars, and House corner. Three goods swims
but Basically one third of the lake. This also meant that the areas best known for the other big mirror 'The Italian' were now in the now out of bounds side of the lake, just to make it even trickier.
My first night back at end of May, again, after a two till ten shift I arrived after dark to the now barren high bank swim, being the last area I caught fish from, it was a good a place as any. It also meant the view from the brolly was a lot better too, looking towards the only untouched bank on the far side come morning. The new Dawn didn't bring the perfect view I had intended though, as when I woke next morning, I was greeted by a string of green boys that that now divided the lake. As I peer round the brolly more surprises were instore as one by one I counted 8 ramps set out all over the other part of the lake, and where the point and snags once was, were replaced with two huts, decking, and four scaffold like towers that protruded from the point to where the snags were, that host the pulleys and cables to all this monstrosity. Plus, a load of colourful banners dotted here and there, OMG, what a mess! In what was the scenic side of the park as well such a shame and more was to follow.
The allocated swim space was to change through the course of that year too, as from the original 13 swims from the syndicate days went to 3, then to 2, followed by strictly nights only because they started to have paddle boards on 'our' side of the lake in the day, to eventually only being able to fish 1 swim 'House corner' nights only. It was quite apparent that the noose was being tightened, and again at any moment the fear of loosing the Castle was becoming more and more likely. My fishing all of a sudden had become a lot more difficult, not necessarily for bites, consistent baiting with the Formula was keeping the bites coming no problem. The difficulty I had was, how do I now catch the fish I wanted, from one shared swim that was not particularly known to harbour these specific residents, and on strictly nights only? I know most of my fishing was predominantly nights but even if I wanted to fish the morning through when they seemed 'on it' like I would have in the past, I now couldn't!
My fishing that season was very randomly spent on the Castle, only that's all I could get, when the dreaded rota said "no go" mostly just an odd night in the week, sparsely dotted over the course of the year. It just kind of lost it's magic, just sitting in one shared swim squeezed into the corner sometimes knowing full well your not near the ones you wanted, looking at the same old view, and now catching the same old fish it was becoming an unenjoyable routine, rather than actual fishing, especially when it had so much more to offer. With me fishing it very irregularly 6 cabins were erected during the times away from the lake. In a neat little row, on the flattened off ground the high bank once was, in replace of the massive poplar trees that were once a beautiful back drop to this bank. And that's just how it was from then on. It seemed every time I came back, something would be different, more Cabins, more caravans, more ramps, more rules, they even had a giant inflatable play ground on the water now and they had also started to dye the water in an effort to try and kill the weed off to accommodate their activities, after a failed attempt to clear it by machine. All this destruction so someone could be pulled round on a wire? Whilst their other two lakes equating to over 150 acres with cabins already present, and plenty of open grassy space so not to destroy anything established, weren't big or suitable enough. So, the once tranquil, beautiful and picturesque old Lincolnshire lake was now, indefinitely, quite the very opposite. Its beauty scarred, and it's tranquillity lost, forever.
I had a good think about Castle whilst away fishing in Cambridgeshire again, in my sulk. How it had all changed, where and when we could fish, feeling how you wasn't always on them, waiting for some weather change or dealing with the increasing disturbances and generally feeling down about the whole thing, when it hit me! "It's just like any other place Markie boy, they're all different and you have to adapt". If I was serious about trying to catch the others, more fine tuning to my fishing
on there for the remaining time left, was what I needed to do. If a certain condition or wind pushed other residents into the area, wait for those conditions. Use the disturbances to my advantage more, like doing nights after the busy days on the ramps and inflatable thingy, which I noticed would also often push different fish into the area too in past sessions. So that was it, a slap in the face and one last tactical push, my plan of action was in place. Of course, being in full time employment, a dad of two, way behind on my duties and in trouble with the Mrs, my cunning plan was easier said than done. But regular trips out (taking the kids for walks) keeping the bait going in, whilst always keeping an eye on 'the goings on' like some crazy nosey neighbour, and forever checking the weather to the extent of a weather buff would be proud, I stuck by my method.
I would love to tell you, all I caught was different fish from then on but this was obviously not the case and being a fairly low stock, repeat captures would be immanent (Big Dave being the main culprit the greedy boy). But do you know what? To a certain degree, it worked! Over the coming carefully planned sessions of prime conditions, I caught several fish that I hadn't before. Including the other half of the beautiful scaly duo that I so dearly wanted to catch, and another sought after fish by way of a stunning koi that hadn't seen the bank in 11 years, amongst some other stunningly beautiful old fish. The other big mirror 'The Italian' still avoided capture, which she was incredibly good at. When my best bud Cookie caught her, it was her first visit to the bank in 7 years, then to go on a little mad spell for a year, to then as I write this another 5-year stint of being uncaught, she only came out twice when the syndicate was run.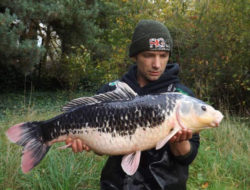 That pretty much brings us up to date with my time on the Castle, at any moment the plug will be pulled and fishing this beautiful place will end for good. I've shared some special times, caught some special fish, all captured on film and in my mind as special memories and for that, I am grateful. I suppose that's the point to all this? Sometimes things change, even when we don't want them to, but to be ready to accept, adapt, or to see things from a different way of thinking or perspective is how we succeed in life or fishing, and the same applies to how we move on from things too. Losing the Castle in this way was not easy to see or except, but when the time which looms ever closer comes, I can still smile, whether I catch the other big mirror or not, knowing the old girls will get their retirement, maybe a noisy one and not as perfect as it could have been, but a retirement nether the less.
A big thank you to the lads that made it possible for me to spend the final years on this special old place, you know who you are.
Mark "The Hobbit" Baxter.