As you're all aware the last couple of years have been like a rollercoaster due to everything what has been happening around the world! I thought I'd use this time wisely and give everyone a quick run through on the successful spring I had earlier this year.
Fishing this place is mega hard work, the adventurous barrow walk, walking along main roads while getting plenty of funny looks while pushing the barrow, haha. It's a good old barrow trek when you're doing 2-3 nights with 15kg off bait on the barrow! Every dog walker and every jogger wishing you luck on your way. I'm sure you all know how interested non anglers are when they see the stuff loaded on the barrow!
After having a good previous year, Spring couldn't come quick enough, if you could call it spring? It's been more off a long winter!
Keeping an eye on the weather waiting and looking for a slight rise in temperature and some big warm winds, during February we had just that, for about a week or so. Wanting to make the most of it I headed down for my first session off the year, a long story short I managed my first one of the year. Nothing special but it's a start. A scaley one, around the 19-20lb mark, buzzing!! More importantly seeing plenty shuffle out within the mist that morning told me they were proper active and already awake, as you do, I then began to doubt myself thinking I should've come back sooner! However, within a few weeks the sh*t weather was back. I decided to keep the capture to myself for the time being mainly due to no one else fishing it at the time, keeping things under my hat allowed me to have the lake to myself for a while.
Towards the end of March as the weather improved slightly, I decided to jump back on the spots I fished the year previous to try get them rocking again, in my opinion it's probably the best area of the lake, in the channel between the open water to the right and the islands to the left. Because the channel was quite narrow it was almost like it would filter the carp down as they passed through coming from the open water. I believed the carp stayed down in the open water during the night and headed up towards the island to top up their tan in the Spring sunshine during the day. It was all about getting the bait in on the spots to stop them in their tracks and hope one slipped up, they just had to come past me at some point. There was definitely ALWAYS a chance in this swim.
This swim was an absolute nightmare for spodding, in-fact anything in this swim was hard-work, bed chair on the piss, big drop into the water to get to the rods. It really wasn't pleasant, everything you dropped would roll straight into the lake. On one occasion last year I woke up to my phone on charge but the cable at full length going towards the lake, always grateful of my ridge monkey power pack saving my phone that day! Haha! The best thing about the swim was it faced a load of houses, lining the rods up with garage lights, bins and cars in the drive away made it that little bit easier getting the rods out in darkness.
Another thing is, there was a little metal bar sticking out of the lake bed, always having my right heel up against that while putting the rods and spombing was key, accuracy was everything. It's the little things what make a big difference!
This particular session back on the spots, it just looked perfect for it, deploying 3 hinges out into the zone with a few spombs of particle and 'The Formula & Arctic Crab' with a good helping of liquid food over the top. You know when everything just goes as sweet as it possible could, you just know it's going to go, the next morning I slipped the net under a lovely low 20 Two tone mirror, pretty cool carp to be honest. Was buzzing about the spots from the previous year haven't blown though. It was game on again!!!
Still pretty long dark nights that time of year, I'd often give a few of the boys a ring for a chat to pass some time, this particular night I gave Dom Glenn a call. Chatting sh*t as we both do he then made a joke about me catching the big 'un the next morning "Grey or Penny tonight, can feel it" I replied "haha shut up, we'll talk one of them out, yeah?" After drifting off to sleep, I woke up to tuffties absolutely battering me right on bite time, eventually catching one couldn't think of much worse than a tufftie foaming the swim up with a big pop up hanging out of its mouth, exactly on bite time. Nightmare of a morning! The rod was soon rebaited and wrapped and back on the spot. The rest of the morning was pretty quiet, though my chance had gone. Got about to 11 o'clock and I decided to start packing some stuff away. The swim was like a bombs gone off, everything apart from the rods was ready to get lobbed on the barrow. Out of the blue the right rod (The tufftie Rod) pulled up tight, leaning into whatever was on the end was certainly no tufftie. Just a dead heavy weight plodding through the weed, bit off a battle under the rod tip, nothing major, I had a good idea it was one off the big 'uns then seeing the big scales along one flank as she rolled, I new exactly which one it was! Shaking like a sh*tting dog! Soon enough, she was in the net sulking and with big pop up hanging out off her mouth, almost 2 years uncaught then there she was in my net, absolute buzzing!! First person to ring was obviously Dom, as he predicted it the night before. Straight on FaceTime showing him my prize all you could hear is a "yeah boyyyyy!" Quick chat with Dom, then gave Ash, Mark, and Arron a ring within 20 minutes they were down, Mark rocking into the swim with a can off fosters for myself while saying "Just found this in the boot" haha! Finished the can off, hoisted her up the bank and onto the scales, for the record she went 37.9lb. Not massive by some standards but living up North in Lincolnshire it's a special one! A few snaps taken of my prize, before you know it, it's all done and you're slipping her back. There is literally no better feeling than The Big Carp Buzz!  Everything that you've had to do over the years is forgotten and every bad trip is forgotten, that tufftie was most definitely forgotten, haha! Lets just say the barrow trip wasn't as bad on the way back to the van hahaha!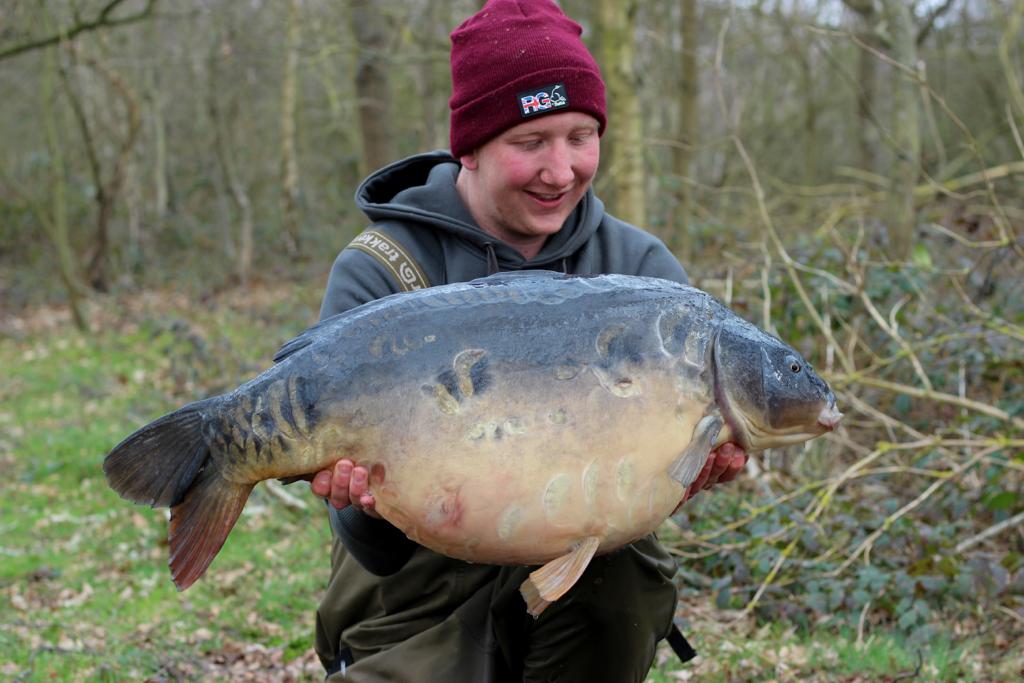 The following trip was the week after, heading straight back into the swim, repeating the process was key every session, as I found out the year before. One of the ones that have become my pets turned up that morning, low 20 leathery mirror, that'll do. The weather had started improving by this point which meant the carp were more active in the mornings.
The week later, I decided to give the spots a little rest and head to another good area. I've caught a few out of this swim in the past, little bit deeper but they 100% spend a-lot of time in-front of there, can almost guarantee you will see a few show out in-front every single morning. Clipping the far margin bushes as the lead hit the water and waiting for the thud. 10 spombs accurately over the top, it was just time to wait. A quiet night past, saw a few in the morning showing amongst the mist however nothing materialised. On the phone to Dom explaining what I've seen but nothing has happened, the left rod was away. A mid day bite, while playing it I had a feeling which one it could be seen as it was coming in like a bag off sh*t. An old friend one known as the 'The Camel' my third meeting with the friendly one over the last couple of years. Took the opportunity to practice some self takes not really done many in the past.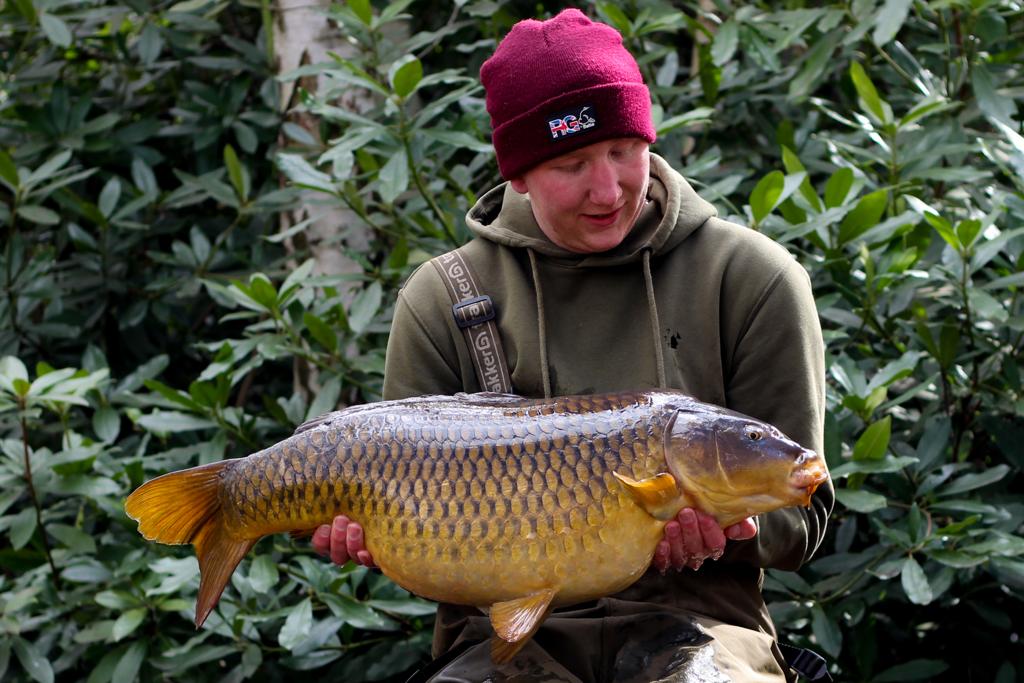 If I remember correctly I blanked for a week or so before my next capture. I headed back into my original swim after seeing some in the area the week before. I repeated the same routine once arriving and getting the kit sorted. A house opposite literally 100 yards away was getting their garden sorted out, there were lots of a trucks, workmen, chain saws all sorts going on during bite time the next morning. Completely ruined it for me to be fair but they obviously didn't know that, they were there for a few weeks. They stopped about 11 o'clock to have some dinner, and by about 11:30 I had one in the net one known as 'Little Penny' a scraper 20. Looks very similar to my last remaining target just 15lb smaller. Happy days. That same night I managed another one around midnight which is a very unusual bite time, happened to be one of the stockies that got put in a few years ago, only a low double but welcome all the same. After every session I'd put a fair bit of bait out, particle and boilie to keep them grubbing around the spot while I'm away from the lake and at work.
The following week I arrived knowing I put in a good amount of bait I was super keen to get back in the zone hoping they had mopped it all up. I had a week off work this trip, favourite time of year the spring is, a week off is a must! The traps were set, had a little social that night with a lad called James who jumped in next store. Few beers later it was time to get into bed. Alarm set for first light; it was 5 o'clock when one shown near the left hand rod. The far side was like a jacuzzi, they were proper having it. Watching them show then fizzing up a few seconds later. It wasn't long before the middle rod pulled up tight, fishing a tight clutch with the rod tips down to avoid the swans and fishing at the bottom of the far margin shelf, every bite would lift the rod up out of the alarm. Proper hairy battle, kited right massively thought it was going to f**k me over at one point, I just locked the clutch up and start pumping in hope it would turn round and start coming towards me, luckily it did. Slipped it over the net cord and all I saw was a massive paddle and a long dark leathery mirror, proper powerhouse, explained why it battered me! Stuck the net pole into the silt, unhooked it, re wrapped the rod, fresh rig straight on. Just as I went to get back in the water to get the rod back out, a scaley mirror shuffled out directly over the left rod. Decided to rest the rod against the bivy and flick kettle on, but within 20 seconds the rod was away, after a short battle there was 2 sulking in the net! James managed to bag a lovely 20+ mirror to make the morning even sweeter for us both, mega morning, what a buzz.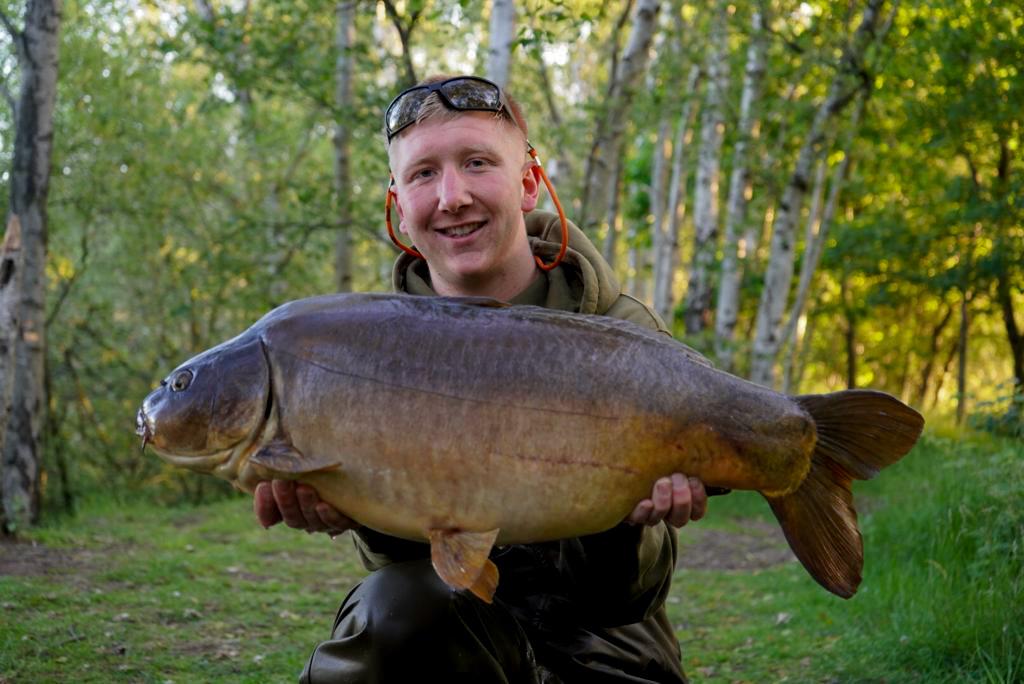 We did the snaps, slipped the carp back, sat back and drank tea reflected on the awesome morning we have had. Nothing else happened that session until the following morning. James had left at this point and another mate called Nick was down, he decided to jump next store where James was. That night was similar to the night before, few beers and a chat, you all know how it goes. Hit the sack, alarm set for first light. Basically, slept with my fingers crossed that night in hope it would be a repeat of the morning before, however the activity had slowed down a little bit, I managed just the one that morning a dumpy upper double mirror. However, Nick next door had a brilliant morning having 2 just over 24+. Another morning filled with cups of tea, wet slings and wet nets and a lovely morning photographing some cool carp, perfect morning.
After fishing it hard for a few months I decided to have some time off and spots had seemed to of dried up a-bit. So I headed off elsewhere such as Farlow's and bluebell with a few mates for a change of scenery. Keeping the buzz alive along the way. Had a few trips to a local big pit, normally only drop on there for a social with a few of the boys. BBQ's, beers & carp with mates is what it is all about! Enjoying the moment! Managed a friendly one known as 'Crinkle Tail' around the mid 20 mark on my visit, happy days!
My good mate Dom managed to get himself a ticket beginning of June, to be a part of his first trip down I decided to head down straight after work to join him. He had happened to set up next to the swim I had been successful in throughout the spring, that's where I headed, back on the original spots. Was time to find out if resting the spots had done much good. All 3 leads went down with crack along with a big hit off bait out in the zone It was time to have some scran and a few beers and enjoy the moment.
At first light I had an aggressive take, keeping the pressure on to keep it moving to avoid it burying me in the heaps of weed in-front of me, it wasn't long before she was in the net. Proper sandy leathery mirror, awesome carp. Flicked the kettle on and had a morning coffee before going to wake Dom up to do some snaps. The weather looked bang on for majority of the day, overcast and a big breeze. Certainly kept the chance of a few more alive. Managed another bite a few hours later which was a recapture, one I'd had earlier in the spring but had to do self takes with due to being on my own. Was good to get some better photos, just a couple of water shots and we slipped her back. Bite time had passed but I left the rods out anyway because the weather was bang on! Managed another bite mid-afternoon but it had kited into a snag on the far side, the line being out the water all weed hanging off it with a big cross wind, was not in an ideal situation. Long story short my mate popped down a dingy and I went out claimed my rig back from the under water snag.
Another few weeks past with no carp to show for my efforts, just lots off beers and BBQ grub.
Coming towards the end of June, the full moon was approaching so decided to get myself for a couple of nights, by this point I had moved area up towards the islands. My last target seemed to spend a-lot of time up there and to increase the chances of me having my moment with her that's where I headed, with big hits of bait to get the spots rocking.
A bright night with the moon lighting up the swim kept me awake for majority of the night. The full moon, proper turned the carp on, fizzing, showing. My spot was literally like a jacuzzi I couldn't believe I hadn't had a bite! Sat on my hands in hope one would slip up. A late morning bite was on the cards, a sketchy battle around the islands then she was in the net. First bite from the new zone, buzzing!! Was a common known as 'Two Tone' which I had last year at an oz under 30lb. She was slightly spawned out this time so wasn't quite a PB common. Took a couple of quick shots then sent her on the way. Full moon and the biggest common in the lake, there's got to be something in it for sure.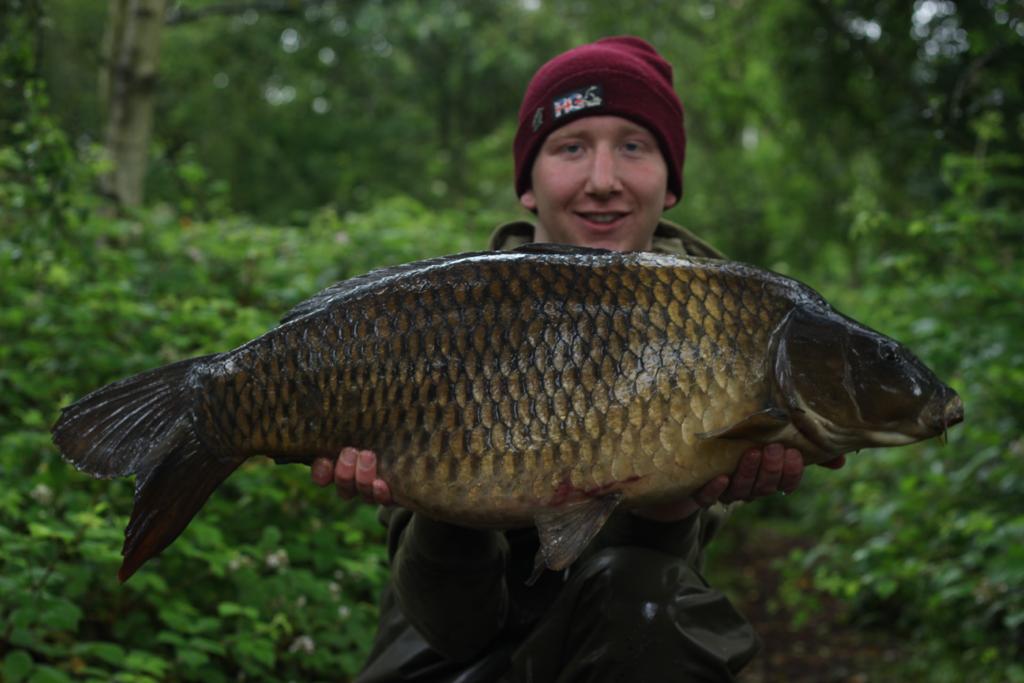 One or two more sessions after 'Two Tone' which resulted in a couple of blanks. Then the Euros started, so to be honest spent more time in the pub watching England and fishing sort of took the back seat!
A couple days after being in London to witness the England v Italy scenes. I headed down the lake for a couple of nights. The island area just looked the one, hitting the clips nicely with all three feeling like they're on concrete. Plenty of bait over the top. The next morning looked bang on, they were pretty active in the zone and it was just a matter of time before getting a bite. Unfortunately, the bite happened to be 'The Grey' again, at spawned out weight of 33-34lb, she got plenty of carp care on the spawning cuts and just slipped her back.
It was at this point I decided to have some time off from this syndicate, my remaining target had been caught. My recaptures were getting too carried away, I managed to get a ticket elsewhere to spend some time.
Penny, I'll be back for you!