In November 2016 my better half, Wendy, decided she would like to return to carp fishing after a long absence from the sport.
In years gone by we enjoyed many sessions on the banks of Sapphire lakes before joining the Baston fen syndicate, where we fished until it's closure in 2001. Baston was a very special place and we struggled to find another venue that captured the same incredible atmosphere. We had two German shepherds, at the time,and also had to take into consideration whether or not dogs would be welcome on any potential new water if we were both to go fishing together.
We couldn't find anywhere that fitted the bill and, as a result of this, Wendy's interest began to wane and I found myself going alone with increasing regularity. Our jobs didn't help matters, with different shift patterns making it increasingly difficult to get time off together, unless we booked holidays. This resulted in Wendy hanging up her rods for several years…..until now!
October 2016, I secured a job working for Trakker after nine years in retail, which meant I now had weekends off whereas I had previously had to work through them and the outcome was that we had more corresponding time off! Wendy went along with me on a couple of trips to Tyram and soon began to get the buzz back!
At the back end of November, we both joined Deepings 3 in Lincolnshire and Wendy began replacing her old tackle with new!
We got off to a good start on Deepings 3, with both of us catching on our first visit, it didn't stop there either and we managed to notch up another dozen or so fish on our next two twenty four hour trips! Come late December, things slowed down drastically and our next couple of visits were blanks, with no sign of fish activity anywhere on the lake! Mind you, we did wake up one morning to find the lake had completely frozen over and we had to break the ice to retrieve our lines!
We were thoroughly enjoying our fishing and as spring approached and the fishing improved we looked forward to our trips like a couple of giddy school kids! We had both acquired a 2017 ticket for Tyram but decided to carry on fishing Deepings 3 until it's annual closure on May 31st. Tyram can be very busy through the months of March, April and May with new members itching to hit the banks and anglers who have not fished through the colder months flocking to the lake in numbers! Deepings 3, by complete contrast, seemed to get quieter at this time of year with most of the membership turning their attention to Deepings 1 and 2 as these two venues began to produce after the winter.
We did visit Tyram for a couple of short afternoon sessions, of around four hours, to get an idea of how things were shaping up but our first proper session wasn't until the second weekend of June.
We arrived at the lake on Friday afternoon to find most of the swims occupied and after a steady walk round it became clear that most of the fish were down the far end, on or around a large shallow plateau.
This area was completely stitched up with no sign of anyone moving anytime soon, so it was simply a case of get in where you can and we finally decided to set up camp in an area known as the lawns.
The lawns at completely the opposite end of the lake to the plateau, was much quieter with no anglers in the area, mind you, there were no fish in the area either and it looked like we would be well and truly 'camping " for the weekend!
There are some cracking fish in Tyram, proper old characters, real Yorkshire gold in my opinion and with waters like this being somewhat thin on the ground up North there is little wonder it can be rather busy!
This was to be my second year on Tyram and I was hoping for better fortune than my first! I had suffered an unprecedented number of inexplicable hook pulls and managed to lose one of the big four right at the net cord, not good!
Time was getting on so we decided to fish just one rod each for the night and review the situation on Saturday morning. After a good feed and a couple of beers we retired to the bivvy for the night, along with the two trusty carp hounds, Saffy and Bane.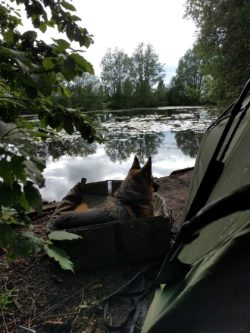 During the night it began to rain, quite steady at first, but as dawn broke the heavens opened and we all huddled under the shelter of the Armo to keep dry, all the while scanning the water outside for signs. It eventually stopped at around 10am and I decided to take the dogs for a walk around the lake while Wendy rustled up some breakfast, I was keen to find out if anything had been caught during the night and to see if the fish were still stacked up around the plateau.
As I approached I suddenly noticed that two of the swims were now vacant! I was amazed! These guys must have packed up early doors while it was teaming it down! After a quick chat with one of the remaining anglers, who informed me that three fish had been out in the last 24hr, my mind was made up, but would I be able to convince Wendy that we should move a mountain of gear to the opposite end of the lake for one night? A mountain of gear that was piss wet through I might add!
Wendy readily agreed to the move and seemed just as keen as me to try and get on them! Breakfast was put on the backburner (although dinner would have been a more apt description by now) and we set about shipping gear around the lake.
We decided to occupy one swim and fish two rods each, we had a good idea where to place our traps as we had done a good deal of leading around in this area on one of our short afternoon trips. Wendy's rods were soon in position, one cast against a far margin to the left with the other being placed straight out against a lilly bed. Mine were positioned more to the right, with one fishing the edge of the plateau and the other just off another set of lilies, around thirty baits were scattered around each hookbait and the traps were set! We finished setting up camp and settled down with a cuppa to watch the water. Suddenly a huge shower of bubbles appeared on the surface over Wendy's right hand rod and we both stood by her set up,full of expectation, as the area began to resemble a jacuzzi! Around ten minutes after it had began, the bubbling stopped as abruptly as it had started and it looked like the opportunity had passed. You often get the feeling that the wary, old warriors of Tyram have sussed you out and cleaned up all but the hookbait, as they often seem to feed on your spots, giving you no indication, before simply moving on!
Jamie, the bailiff at Tyram, called by for at chat and as we stood talking Wendy's right hand Delkim suddenly burst into life and line began to peel off a tight baitrunner! Wendy scrabbled to the rod and lifted into the fish and the water erupted as an angry carp tried to gain the sanctuary of the lily pads! There were a few tense moments before she managed to turn it and it set off on
a run, chugging it's way along the front of the swim from left to right! All of a sudden I realised we hadn't set up the landing net since moving and I began to fumble around putting it together as quickly as possible! I heard Jamie utter the words "it's a mirror" as I struggled to put the arms in the spreader block with trembling hands, followed by "it's a very big mirror!" I completed my task, turned around and managed to sink the net in the margins just as a huge set of shoulders broke surface ten yards out! A great big set of lips kissed the spreader block and I lifted the mesh around one seriously big mirror carp! We peared into the net at Wendy's prize and Jamie instantly recognized it as Baby Baz, the crown jewels of Tyram, and quite possibly the biggest mirror in South Yorkshire!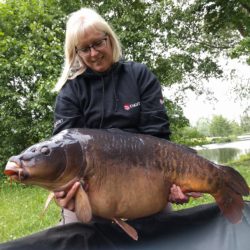 We kept Baz in the water, resting in the folds of the net, while Jamie organized things on the bank and all the lads on the lake gathered to help with the weighing. Up on the scales,the needle settled, and we all agreed on a weight of forty eight pounds ten ounces! What an awesome fish, pure Yorkshire gold! We fired off some snaps before returning Baz to the lake and everyone congratulated Wendy on her new personal best.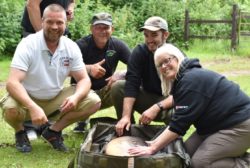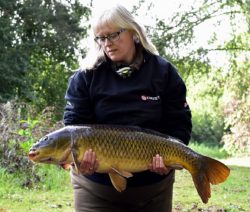 The move had certainly paid off and it didn't end there, the hours of darkness were fruitless but at first light, Wendy was in again, this time landing a long, lean common of 23lb. Just before packing up, I managed to get in on the action myself with a stunning, scaley, old beast of 23lb 8oz. This one snagged up in the pads and I had to take to the boat to land it, which amused Wendy no end, especially when I got stuck in the lilies, but land it I did and I was well happy with my prize.
We were itching to get back and the following weekend couldn't come soon enough! On Monday morning I called the lads at RG Baits to inform them of Wendy's good fortune and order some more bait and Thursday morning 15 kilos of freshly rolled Vita-lac was delivered to my work address, a fantastic bait and a first class service! I managed to book a holiday for Friday so we could, hopefully, get a head start on the weekend anglers and at 9:00 am we were rolling down the M18 on our way back to Tyram!
As we coasted down the track to the lake it became instantly apparent that our plans on beating the weekenders to the post had seriously backfired! It was even busier than the previous week, with all the swims around the plateau completely stitched up, one angler was even queuing behind another, waiting for him to leave! It was clear to see that, once again, most of the fish were stacked up on and around the plateau but the only available swims were nowhere near this area! We went for a wander around and found ourselves at the opposite end of the lake looking out across the lawns, it looked completely devoid of fish so we continued on our reconnaissance and made our way to the next swim along, known as the slopes. The slopes is always full of lilly pads during the summer months and as we stood watching the water we suddenly spotted a dark shape drift from one set of pads to another! This was encouraging, there was, at least, one fish down this end of the lake and it suddenly became apparent that it wasn't alone as a big set of shoulders raised up among the lilies! Our minds were made up and we began to set up camp in the slopes!
We decided to fish just two rods each due to the tight, snaggy nature of the swim, it was literally a case of flicking a couple of hookbaits into holes among the pads, each accompanied by a handful of freebies, and keeping everything locked up, real hook and hold tactics! As the day wore on it became stiflingly hot and we were very grateful of the shade of the tall trees on either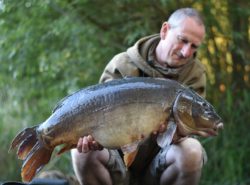 side of our pitch and as dusk approached we began to see more fish turn up in front of us, possibly drifting down the lake to escape the angling pressure around the plateau. As the light faded and the temperature cooled my right hand alarm suddenly signaled a take and after a short, uneventful fight I managed to bundle a dumpy, little, mirror of thirteen pounds into the net. The hours of darkness passed without event but at first light the same rod was away again! It was clear from the outset that this was a much heavier fish as it lurched around the snaggy swim trying to gain the sanctuary of the pads but I soon gained the upper hand and Wendy slid the net under my prize, a proper, old, dinosaur of a mirror, weighing in at 29lb 4oz! I was thrilled to bits, a real old, Yorkshire character with leathery flanks and battle scars galore! We fired off a few trophy shots before returning the old girl, who waddled away, none the worse for a bankside excursion! It was around five thirty am. and the temperature was already rising, we were heading for another scorcher!
The heat of the day peaked in the mid twenties and the fish showed no signs of feeding, preferring to bask in the shade of the lilies and occasionally a huge boil would disturb the surface, right in the very thickest area of the pads. We whiled away the day chatting and drinking tea in the shade, it was simply too hot to do anything else, and, incredibly enough, at almost exactly the same time as the previous evening, my right hand rod signaled a take just as the temperature began to cool! The culprit was a lean looking leather of nineteen pounds and, after a couple of snaps, the fish was returned and the rod was back out on the spot.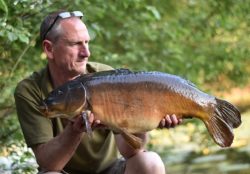 Once again, the hours of darkness proved fruitless and it appeared as if the fish had all drifted away. We had already made up our minds to pack up early the next morning, before the heat returned to make the task unbearable, and an alarm was set for five o'clock but, before it had a chance to sound, I was jolted awake by a single bleep from my right hand alarm! It was just starting to get light and I reckoned it was around four o'clock. I slid off the bedchair and padded down to the water's edge and as I stood by the rods the line on my right hander suddenly tightened and the tip pulled down! I lifted into the fish and felt a couple of hefty lunges before it all went solid! I held the rod high and kept a steady pressure on the line, my luck was in, and after a couple of minutes something kicked and I began to gain ground. A large ball of weed surfaced and suddenly a large, golden coloured tail smacked against the surface, sending up a shower of water droplets! I knew instantly which fish this was and as it shook free of the weed all hell broke loose! The shallow water erupted as it flat rodded me trying to reach the pads to my left, ripping line off a screwed down clutch! I held on for dear life,praying the hook wouldn't pull, as it thrashed on the surface and I managed, somehow, to turn it just before it careered into the lilies! It wallowed around in front of me as I reached for the net but it suddenly decided it was in no mood to have it's photo taken and ploughed a way back towards the pads! With the rod in a full battle curve I managed to bully it away from the snags and back towards the waiting net. This time all went to plan and I guided it over the net cord before punching the air with delight! Amazingly enough, Wendy had remained asleep through the whole episode, so I secured the fish in the landing net before going to wake her.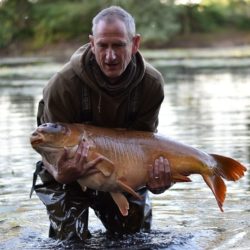 We hoisted my prize onto the unhooking mat and parted the mesh to reveal a big, old ghost carp known as Casper, one of Tyram's proper characters. Up on the scales she weighed in at thirty seven pounds exactly and we fired off a few shots in the morning light before watching her swim off through the pads.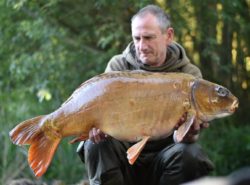 We began a steady pack up, thrilled with our good fortune, and reflected on what had been two very eventful weekends at Tyram!